[text]
Careers
Apply At:
[email protected]
Job Title: Field Installation Manager
Department: Fox Core Direct
Reports to: VP of Operations
FLSA Status: Exempt
Job Summary
As a Field Installation Manager, you will be responsible for driving field-related processes and tactical improvements to the slab installation process end to end. To do this, you will work closely with the scheduling, shop managers, and project Managers at all levels to implement change management practices, adherence to core operating metrics, process improvements and installation efficiency programs. This is a dynamic role requiring the Field Installation Manager to get into the field often and having a strong understanding of the day to day of installing various products. The Field Installation Manager must be proactive in uncovering / root causing problematic issues affecting daily operations. To be successful in this role, the Field Installation Manager should build strong relationships with the Project Managers and serve as a "voice for the Field" to cross-functional stakeholders.
Company Culture: Our team members share a positive, can-do attitude and are great at what they do. Although we all work hard, the biggest plus is that our staff truly, likes one another!
Job Requirements
Strong management of 10+ crew.
Proficient in MS Word, MS Outlook, MS Excel, and Adobe, a plus.
A reliable work ethic, honest and on time.
Willing to undergo a background check in accordance with local law/regulations.
Job Functions
Scheduling of all install crews.
Manage install crews' performance, including document and maintain accurate records.
Procurement and delivery of all day-to-day materials (rough materials)
Review & approve timecards, including expenses.
Review of all install layouts for approvals.
Site meetings w/ superintendents.
Understand goals and translate them to metrics. Build and drive a data-driven performance evaluation process to help managers adhere to specific targets on core metrics.
Knowledgeable and adheres to all company policies, procedures, protocols and Health and Safety requirements.
Work with Management to provide field perspectives and practicalities in informing installation process standardization. Advocate for changes to existing processes by being the voice of the field.
Promote and maintain a culture and attitude of continuous improvement, working within the Fox Marble team to make it more efficient, scalable, and an enjoyable place to work.
Demands & Travel Requirements:
The physical demands described here are representative of those that must be met by an employee to successfully perform the essential functions of this job.
Candidates may need to sit or stand as needed throughout the day.
Candidates may exert over 50 pounds of force occasionally to lift, carry, push, pull, or otherwise move objects.
May include bending, reaching, squatting, twisting, stooping, and kneeling throughout the day.
May include reaching above shoulder heights, below the waist or lifting as required to pack or store materials throughout the workday.
Proper lifting techniques required.
COVID-19 considerations: We provide personal protective equipment (PPE) for your safety.
Fox Marble's state-of-the-art facility is located in Richmond, California.
Benefits: Paid Time Off (PTO), Retirement Plan (4% Match), Paid Company Holidays, Company Vehicle, & Company Gas Card.
We thank all candidates who apply, however, only those selected for an interview will be contacted.
Fox Marble & Granite does not accept unsolicited resumes from headhunters, recruitment agencies or fee-based recruitment services. Fox Marble & Granite is equal opportunity employer. We consider candidates regardless of age, ancestry, color, marital status, medical condition, mental or physical disability, national origin, race, religion, political and/or third party affiliation, sex, pregnancy, sexual orientation, gender identity, military or veteran status.
[/text]
[images]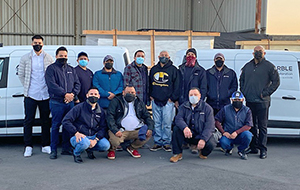 [/images]