[text]
Careers
Title: General Labor – Shop
Department: Fox Core/Production
Reports to: Production Manager
FLSA Status: Non-Exempt
Apply At:
[email protected]
2nd Shift – 2:30 PM – 11:00 PM
Job Summary
Fox Marble & Granite, Inc. is locating in Richmond, CA. This position is on-site and primarily supports our Fox Marble shop.
Company Culture: Our team members share a positive, can-do attitude and are great at what they do. Although we all work hard, the biggest plus is that our staff truly, likes one another!
Job Requirements
• A reliable work ethic, honest and on time.
• Team player.
• Willing to undergo a background check in accordance with local law/regulations.
Job Functions
• Unload incoming, pallets, or loose products.
• Sort, process, consolidate and package outgoing product gaylord and pallets.
• Load outgoing shipments into truck, trailer, and container.
• Inventory and label on both incoming and outgoing products.
• Manage supplies and tools.
• Work with other departments and prepare supplies, tools, and other needs.
• Fulfill and exceed daily production quota.
• Handle goods and equipment properly to avoid damage or breakage.
• Maintain product flow and warehouse layout.
• Maintain a secure and safe work environment.
• Maintain clean and safe housekeeping in and around warehouse.
• Assist in job training to new staff, participants, volunteers, and clients.
• Bilingual is a plus.
• Other duties as assigned.
Physical Demands & Travel Requirements:
The physical demands described here are representative of those that must be met by an employee to successfully perform the essential functions of this job.
• Candidates may need to sit or stand as needed throughout the day.
• Candidates may exert over 50 pounds of force occasionally to lift, carry, push, pull, or otherwise move objects.
• May include bending, reaching, squatting, twisting, stooping, and kneeling throughout the day.
• May include reaching above shoulder heights, below the waist or lifting as required to pack or store materials throughout the workday.
• Proper lifting techniques required.
• COVID-19 considerations: We provide personal protective equipment (PPE) for your safety.
Fox Marble's state-of-the-art facility is in Richmond, California.
Organization: Evolv Surfaces, Inc. dba Fox Marble & Granite, Inc.
Country: United States State: California City: Richmond, CA
Job Function: Full-Time
Company Website: www.fox-marble.com
Pay Range: $18 – $22 DOE
Benefits: Paid Time Off (PTO), Retirement Plan, Paid Company Holidays.
We thank all candidates who apply, however, only those selected for an interview will be contacted.
Fox Marble & Granite does not accept unsolicited resumes from headhunters, recruitment agencies or fee-based recruitment services. Fox Marble & Granite is equal opportunity employer. We consider candidates regardless of age, ancestry, color, marital status, medical condition, mental or physical disability, national origin, race, religion, political and/or third-party affiliation, sex, pregnancy, sexual orientation, gender identity, military, or veteran status.
[/text]
[images]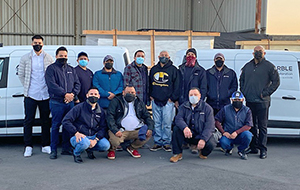 [/images]