[text]
Careers
Fox Marble Manufacturing Facility is in Richmond, California.
Job Title: Tile Installer
Department: Fox Core, Direct/Tile
Reports to: Project Manager
FLSA Status: Non-Exempt
Apply At:
[email protected]
Job Summary
Fox Marble and Granite is in Richmond, CA. Fox Marble is the leading Bay Area facility with state-of-the-art equipment, is looking to bring into our world-class team an experienced Field Installer.
Job Knowledge, Skills, Abilities
• Wall and/or floor installation
• Clean grouting
• Set up and break down mixing areas
• Measure and mix material properly
• Maintain equipment in a clean and working condition
• Properly clean prepared areas w/brooms and vacuums
• Cut and fill joints
• Patch holes and divots
• Mix epoxy
• Hand trowel and power trowel
• Hand grind or edge grind
• Clean and maintain work area
• Attention to detail
• Perform other related duties as assigned.
Job Qualifications:
• Experience is required – able to complete jobs with minimal instruction / teaching
• Willing and able to follow instruction
• Detail Oriented
• Strong work ethic
• Resumes, photos of past work, etc. are encouraged.
• Willing to undergo a background check in accordance with local law/regulations.
• professionalism and a positive attitude.
Physical Demands & Travel Requirements:
• The physical demands described here are representative of those that must be met by an employee to successfully perform the essential functions of this job.
• Candidates may need to sit or stand as needed throughout the day.
• Candidates may exert over 75 pounds of force occasionally to lift, carry, push, pull, or otherwise move objects.
• May include bending, reaching, squatting, twisting, stooping, and kneeling throughout the day.
• Proper lifting techniques required.
• Traveling Required – To job sites.
• Valid California Drivers License with no points.
Company Background
Fox Marble was established in 1986 by President and CEO, Charles McLaughlin. Charley served in the US Marine Corps in Vietnam and graduated from Rutgers University in 1973. For eight years he managed a masonry products company where his love for natural stone was born. Charley embodies Fox Merchandising International's personal, passionate approach to customer service. And, having visited many of the world's finest quarries and manufacturing plants personally, he is a central figure in maintaining the relationships at the heart of Fox Merchandising International.
Fox Marble offers a wide range of services, from direct importing of the finest stone from around the world, to in-house fabrication, professional installation and a full-service stone care and restoration. A one-stop shop for all your high-quality stone projects, Fox Marble offers the ultimate in knowledge, customer service and craftsmanship.
Fox Marble Manufacturing Facility is in Richmond, California.
Organization: Evolv Surfaces, Inc. dba Fox Marble & Granite, Inc.
Country: United States State: California City: Richmond, CA
Job Function: Full-Time
Employment Type: Permanent Full-time.
Pay Rate DOE, depends on experience
Benefits: Paid Time Off (PTO), Retirement Plan, Paid Company Holidays.
We thank all candidates who apply, however, only those selected for an interview will be contacted.
Fox Marble & Granite does not accept unsolicited resumes from headhunters, recruitment agencies or fee-based recruitment services. Fox Marble & Granite is equal opportunity employer. We consider candidates regardless of age, ancestry, color, marital status, medical condition, mental or physical disability, national origin, race, religion, political and/or third party affiliation, sex, pregnancy, sexual orientation, gender identity, military or veteran status.
• Please click here for more details
[/text]
[images]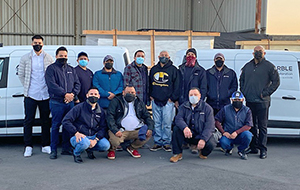 [/images]