[text]
Careers
Job Title: Project Engineer / Estimator
Department: Fox Core G&A
Reports to: Sr. Project Manager / Sr. Estimator
FLSA Status: Exempt
Job Summary
Fox Marble & Granite, Inc. is locating in Richmond, CA. This position is on-site and primarily supports our Fox Marble Sales/Project Managers by researching and developing project proposal through the creation of project spreadsheet, drawings and preconstruction site coordination meetings with contractors, designers, and homeowners.
Apply At:
[email protected]
Company Culture: Our team members share a positive, can-do attitude and are great at what they do. Although we all work hard, the biggest plus is that our staff truly, likes one another!
Job Requirements
• Advanced understanding of AutoCAD and Rhino modeling software.
• Knowledge of the Tile & Slab industry, required.
• Creating estimates for tile & slab projects, required.
• Excellent verbal and written communication skills.
• Excellent budgeting and cost containment skills.
• Excellent organizational skills and attention to detail.
• Excellent time management skills with a proven ability to meet deadlines.
• Strong analytical and problem-solving skills.
• Proficient with Microsoft Office Suite or related software.
Job Functions
• Analyze blueprints, specification, proposals, and other project related documents to prepare time, cost, and labor estimates for tile and stonework.
• Accurately create CAD and hand drawings to accompany project bid and update drawings for preconstruction development.
• Work with Vendors to source and negotiate pricing on raw materials and freight.
• Under supervision of Sales/Project managers assist clients in development of project scope by attending site walks, creating project scope spreadsheets, and drafting project drawings.
• Accurately complete take offs and develop bid documents by interpreting drawings, specifications, and verbal communication with clients.
• Assist customers when salesperson is not available both in person and by phone by gathering basic information and providing samples or basic information.
• General administration, including clerical duties, answering phones and preparing documents.
• Ensures compliance with codes, guidelines, best practices, and policies.
• Collaborates with the operations department to identify and troubleshoot problems.
• Provide continual effective communication between vendors, customers, and internal Fox staff in both written and verbal communication.
• Generate and foster a culture of high-productivity, mutual respect, and positive inter-personal relations.
• Demonstrate teamwork and leadership through effective communication, patience, listening, teaching, and continuing education and curiosity as to innovations in the marketplace.
• Always seek ways for improvement.
Education & Experience:
• Bachelor's degree in related architectural discipline required.
• At least eight years of experience in project management, architectural, systems design, or another related field.
Physical Demands & Travel Requirements:
The physical demands described here are representative of those that must be met by an employee to successfully perform the essential functions of this job.
• Candidates may need to sit or stand as needed throughout the day.
• Candidates may exert over 15 pounds of force occasionally to lift, carry, push, pull, or otherwise move objects.
• May include bending, reaching, squatting, twisting, stooping, and kneeling throughout the day.
• May include reaching above shoulder heights, below the waist or lifting as required to pack or store materials throughout the workday.
• Proper lifting techniques required.
• COVID-19 considerations: We provide personal protective equipment (PPE) for your safety.
Fox Marble's state-of-the-art facility is in Richmond, California.
Organization: Evolv Surfaces, Inc. dba Fox Marble & Granite, Inc.
Country: United States State: California City: Richmond, CA
Job Function: Full-Time
Company Website: www.fox-marble.com
Pay Rate DOE ($75k – $100k)
Benefits: Healthcare, Paid Time Off (PTO), Retirement Plan, Paid Company Holidays.
We thank all candidates who apply, however, only those selected for an interview will be contacted.
Fox Marble & Granite does not accept unsolicited resumes from headhunters, recruitment agencies or fee-based recruitment services.
Fox Marble & Granite is equal opportunity employer. We consider candidates regardless of age, ancestry, color, marital status, medical condition, mental or physical disability, national origin, race, religion, political and/or third-party affiliation, sex, pregnancy, sexual orientation, gender identity, military, or veteran status.
• Please click here for more details
[/text]
[images]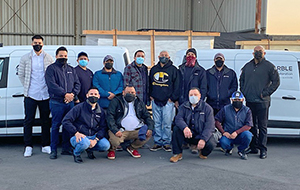 [/images]