[text]
Careers
Fox Marble Manufacturing Facility is in Richmond, California.
Job Summary
Fox Marble and Granite is in Richmond, CA. Fox Marble is the leading Bay Area facility with state-of-the-art equipment, is looking to bring into our world-class team an experienced Quality Engineer.
Job Knowledge, Skills, Abilities
• Demonstrated leadership skills with the ability to identify and execute quality solutions for the company.
• Knowledge in the areas of engineering, manufacturing, and quality.
• Demonstrated troubleshooting skills and experience conducting root cause analysis.
• Track and stratify internal and external defect data.
• Conduct quality inspections at the shop and in the field.
• Produce and maintain QA document for process and product quality control.
• Regularly conduct meetings with teams to share quality issues and to drive improvement.
• Implementing lean manufacturing principles and using Lean Manufacturing and Six Sigma methodology to improve quality and processes.
• Good verbal and written communication skills with flexibility and ability to work with other departments and levels within the company.
• Demonstration of excellent leadership skills with ability to impact and influence the processes.
• Ability to work across teams in a fast-paced environment.
• Flexibility and willingness to learn new concept, processes, and product information.
• Attention to detail
• Perform other related duties as assigned.
Job Qualifications:
• 2 + years of experience in quality inspection role
• Experience in industrial manufacturing or production line.
• Knowledge of Lean Principles and Six Sigma.
• Experience in stone industrial is a plus.
• Strong PC skills including email, MS Office, and report generation
• Good communication
• Willing to undergo a background check in accordance with local law/regulations.
• Professionalism and a positive attitude.
Physical Demands & Travel Requirements:
• The physical demands described here are representative of those that must be met by an employee to successfully perform the essential functions of this job.
• Candidates may need to sit or stand as needed throughout the day.
• Candidates may exert over 50 pounds of force occasionally to lift, carry, push, pull, or otherwise move objects.
• May include bending, reaching, squatting, twisting, stooping, and kneeling throughout the day.
• Proper lifting techniques required.
• Traveling Required – To job sites.
We thank all candidates who apply, however, only those selected for an interview will be contacted.
Fox Marble & Granite does not accept unsolicited resumes from headhunters, recruitment agencies or fee-based recruitment services. Fox Marble & Granite is equal opportunity employer. We consider candidates regardless of age, ancestry, color, marital status, medical condition, mental or physical disability, national origin, race, religion, political and/or third party affiliation, sex, pregnancy, sexual orientation, gender identity, military or veteran status.
• Please click here for more details
[/text]
[images]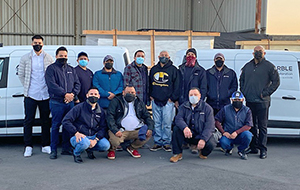 [/images]